156-160 Highland Street, Roxbury, Boston, MA 02138
Parcel Area: 9,133 SF
Total Project Size: +/-5050SF
SITE DESCRIPTION
Site Conditions
Fronting Highland Street, the site gradually slopes up Highland Street and becomes flat.
Adjacent Uses
Residential uses with one and two family wood frame and brick buildings, and brick row house buildings surround the site.
Zoning
3F-4000 / 2F-5000, as shown on Map 6D of the Boston Zoning Maps in the Roxbury Crossing District.
PROJECT TEAM
Developer/Design Manager
EPLUS Solutions, LLC /Sage Builders LLC
Architect of Record
Nickerson Design Services
General Contractor
Placetailor, Inc.
Landscape Architect
Transformations Inc. (Jeff Richards)
LEED Consultant
CLEAResults
Energy Consultant
DEAP Energy
Green Rate/LEED for Homes Provider
CLEAResults
Site Engineer
Design Consultants. Inc (DCI)
Solar Provider
SunBug Solar
DEVELOPMENT CONCEPT
Vision Statement
Market Rate/Affordable Net Zero Housing
Create net zero, energy-positive, and environmentally sustainable multi-family housing that stands as a model of responsible, contextual residential development, that can lead to a change in the market place in the future.
Challenging the idea that Net Zero Homes need to be made with ultra-modern, high end materials created the basis for the design of this project. The Goal was to promote energy efficiency housing that is easily accessible to residents, using commonly found products, with high energy ratings.By looking at energy efficiency as something that is attainable across all price levels, rather than a costly goal, residents can begin to see that energy efficiency is not out of reach. The use of easily accessible products will help give the realization that Net Zero housing and its increased health and comfort levels, can be achieved without the high cost, making it more attractive, accessible and competitive in the housing market.
General Description
Contextually designed, energy efficient homes fit seamlessly into the Roxbury neighborhood, while incorporating sustainable materials and techniques that allow the buildings to operate at a net energy positive level throughout the year.
The site consists of two buildings. The building further from the street is a stacked two unit home. Each dwelling had 2 bedrooms, 1 bath. The top unit is approximately 1,600 SF, which includes a conditioned but unfinished third-floor. The first floor unit is smaller, at 850 SF. The Greek revival house closer to highland st, is a townhouse style structure, also with two units. In this building both units are 3 bedrooms, 2.5 baths and are approximately 1300 SF, excluding the basement space.
The pitched roofs serve to maximize the available roof space for Photo Voltaic solar panels, that produce enough energy to offset all onsite energy use and even provide excess energy.
Passive Features
Passive Solar
The southern facade is glazed to take advantage of solar heat gain in the winter. Deep overhangs and window depths reduce heat gain in the summer months.
Daylighting
Daylighting is maximized to reduce reliance on artificial lighting.
Super-Insulated and Airtight Building Envelope
Ceiling/Roof (153 & 154): 16'' dense-packed cellulose (+/-R60)
Ceiling/Roof (156): 4″ closed-cell sprayed polyurethane foam (SPF) plus 10″ open cell SPF (+/-R60)
Wall construction: 12" double stud wall fixed with dense-packed cellulose (+/-R-43)
Windows:High Performance triple glazed, U value 0.180; SHGC 0.210
Foundation : Insulated Concrete forms (+/-R23)
Under Slab : 4″ fly ash concrete slab over 3″ Type IX EPS foam with 15 mil polyethylene vapor barrier
Blower Door Test : Air Infiltration was measured at 0.5 CFM 50 (cubic feet per minute at 50 pascals pressure differential)
HERS Ratings : -22 to -14 (standard building code requires 55)
Passive Ventilation
Via manual operable windows
Site Water Management
Rainwater is captured in dry wells.
Drought-resistant native plantings and minimal amounts of grass are used to decrease the need for water and maintenance.
Energy Star HVAC Mechanical Systems
Controlled Ventilation
Renewaire EV90P, 44W at 86% efficiency Energy Recovery Ventilators (EVR) for each unit with supplies to bedrooms and living spaces and exhaust returns from bathrooms; kitchen range hood exhaust to exterior.
Heating and Cooling
Mitsubishi H2i Ductless MUZ-FH09NA, 15.5 SHEER, 10 HSPF
Domestic Hot water
AO Smith heat pump water heaters
Water Saving Features
Ultra-efficient, watersense showerheads, faucets and fixtures are used throughout.

Hansgrohe Logis Loop, bathroom faucet (1.2 gpm)
Grohe Tempesta, showerhead
Grohe "Concetto," kitchen faucet
Kohler Highline Toilet (1.29 gpf)

Solar PV/Energy Features
96, LG 330 PV panels (Model NeON2) with an module efficiency of 19.26%
Electric Vehicle (EV) Charging station ready
LED lighting fixtures
Appliances
Electrolux 30″ free standing induction range
Electrolux side by side stainless steel refrigerator
Electrolux 24″ stainless steel dishwasher
Whirlpool condensing heat pump dryers
Materials
Durable, cementitious siding (extremely fire resistant)
Low VOC content in materials and finishes
Natural oak and Bamboo Flooring
PROJECT TIMELINE
Zoning Approval
March 2012
Building Permit Approval
Summer 2017
Land Closing/Construction Start
October 2016
Construction Complete
September 2017
Sales/Closing
November 2017 (154 Highland)
February 2018 (152,156,158 Highland)
BUILDING PERFORMANCE AND LEED CHECKLIST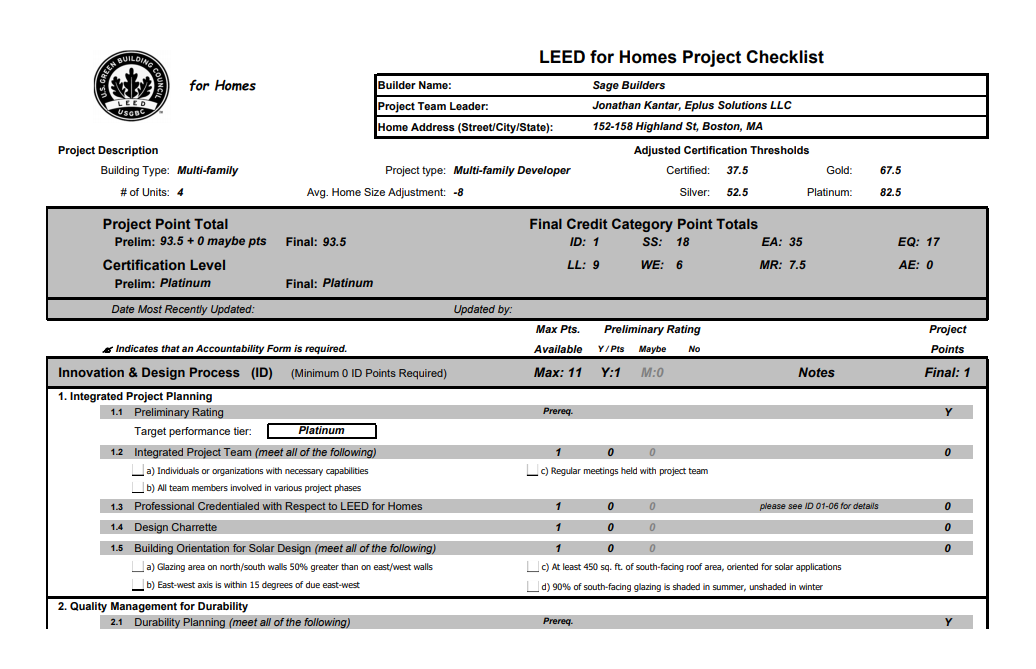 BEST PRACTICES AND LESSONS LEARNED
Integrating design process, careful planning and execution
"Keep it Simple"
Easy to build Easy to Operate
Durable products locally sourced
Being patient is essential
Onsite quality control is essential
Education of all involved in development process, from leaders to workers to home buyers
It is necessary to be exact when designing and building an energy efficient home
Using durable, readily available materials while still choosing energy efficient models, is important in creating a home that is accessible and appealing in the market